Prayer of the Day
Feast of St. Maximilian Kolbe, Priest & Martyr
August 14th, 2014
""Come you blessed of my Father, says the Lord. Amen, I say to you, whatever you did for one of the least of my brethren, you did it for me.""
Matthew 25 : 40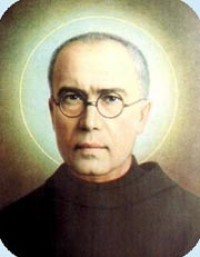 Maximilian Kolbe.   Like so many others he died in a concentration camp during World War II.  A very zealous priest with special devotion to the Immaculate Virgin Mary he was sent to the labour camp because he opposed the Nazi regime.   While he was in that camp one prisoner escaped and in revenge ten innocent prisoners were condemned to death.  Fr. Kolbe was not one of those chosen at random but when a fellow prisoner who was picked cried out; "I can't leave my wife and family" he stepped forward and offered to go in his place.  The offer was accepted and the priest joined the nine others who were left to slowly die of starvation. During those long days and nights,  Fr. Kolbe did what he could to support his companions and prepare them for a happy death.  He himself was the last to die on the eve of the Feast of the Assumption of Our Lady to whom he was so devoted.  No doubt he went straight to heaven to share in the glory of his Heavenly Queen.
As we remember this great martyr to-day,  we may ponder how he was able to offer his life spontaneously for a fellow prisoner.  We find the answer in the prayers for his feast,  which speak of his 'burning love' for Our Lady and the 'fire of charity' which he received from the Eucharist.
Prayer
Lord we thank you for the example of your Saint Maximilian Kolbe. Through this prayer we ask you to help us serve others with willing and generous hearts. Amen