Prayer of the Day
Feast of St. Michael, St. Gabriel and St. Raphael, Archangels
September 29th, 2015
"You will see heaven opened and the angels of God ascending and descending upon the Son of Man."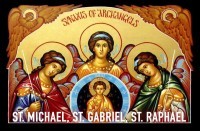 Philip found Nathanael and told him,  we have found the one about whom Moses in the law and also the prophets wrote,  Jesus, son of Joseph from Nazareth. On seeing him draw near,  Jesus discloses who Nathanael is.  He says; 'here is a true Israelite." (John 1 : 43 – 51)  We now have Nathanael's positive response and Jesus' promise of a vision of greater things,  the revelation of the Son of Man and the new way to Heaven.
Vision too has profound connection with witnessing and faith.  TO believe is to see things greater than the one before our eyes.  To witness is to tell others that what is seen is worth believing and even living for.
Prayer
We pray for the Church. May our fears, doubts and questions never succeed to prevent us from the love of God. We pray for all who are struggling with unsettling questions. Lord hear us. Amen