Prayer of the Day
Feast of St. Monica
August 27th, 2016
"All I ask of you is that you remember me at the Lord's altar wherever you may be."
St. Monica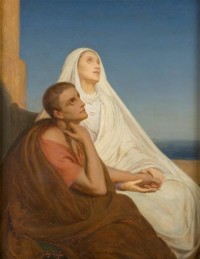 Monica is probably best known as a woman whose prayers converted her wayward son,  Augustine who became a great saint.  Because of this,  mothers often pray to St. Monica for a child who has gone astray.  But Monica is also remembered for her dying words quoted above,  which you often see on Memorial Cards.  the story is that after Augustine's conversion he and his brother were with their mother as she lay very ill in Rome,  far away from her native home in North Africa.  Knowing she was soon to die,  she said to her sons; 'Here shall you bury your Mother.'  When it was suggested she be taken back to her own home,  where her husband was buried she simply said; 'Lay this body anywhere… this only I request that you would remember me at the Lord's altar.'  So St. Monica is buried in Rome.
Prayer was at the centre of this woman's life.  She spent years praying for her sons conversion.  When she saw Augustine fully converted she was ready to leave this earth.  Her only wish on her death bed was that prayers should now be offered for the repose of her soul.
Prayer
'You have made us for yourself O Lord and our hearts are restless until they rest in thee.' (Confessions of St. Augustine) Amen