Prayer of the Day
Feast of St. Monica, mother of St. Augustine
August 27th, 2014
""Happy the nation whose God is the Lord.""
Psalm 144 v.15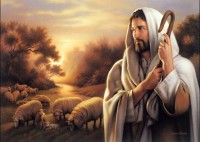 They are happy because they have found "the treasure hidden in a field," the "pearl of great price" spoken of by Christ in Matthew 13 : 44.  Our faith in Jesus begins with our Baptism.  Belief in Jesus,  the son of God is our way to eternal life.  Faith is like the house build on a rock that no storm could shake because it had a good foundation.  God is our rock,  our stronghold.  "In him,  we live and move and have our being."
Christ appointed Peter to be the Shepherd of his flock,  the Church.  Peter is the rock on which the Church is built.  Every Pope since is Peter's genuine follower.  Pope Francis is the follower of Peter.  As there is only one Pope,  there is only one orthodox teaching.   To-day there are thousands of Christian sects who have broken away from Christ's Church to do their own thing.  Their members are increasing all the time.  True followers of Christ say 'yes' to the teaching of Jesus,  for Christ is the light of the world.  If we follow him,  we won't be walking in the darkness.   So,  let us follow Christ for he is "the way,  the truth and the life."  In you O Lord I put my trust,  let me never be confounded.