Prayer of the Day
Feast of St. Monica
August 27th, 2015
"I will bless your Name forever, O Lord."
Psalm 145 v.1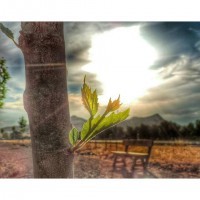 A few reflections on to-day's Gospel and Jesus' words.  In Matthew 23 : 27 – 32,  Jesus words to the Scribes,  Pharisees; 'Alas for you hypocrites,  you who like white washed tombs that look handsome on the outside,  but inside are full of dead men's bones,  every kind of corruption."   Jesus' words are forthright and startling.  How would Jesus address people to-day?  That is a question to ask ourselves.
In Matthew 24 : 42,  Jesus addresses his disciples; 'Stay awake,  because you do not know the day when your Master will come.'  Questions follow and Jesus gives examples of householders,  of masters,  of servants,  providers in society.  There is lots of food for thought in to-day's Gospel.
To-day is the feast of St. Monica,  332 – 387,   who converted her pagan husband,  Patricius,  to the faith,  and by her prayers and tears brought her son St. Augustine to Christianity and a moral life.  She is Patron saint of mothers.
Prayer
Let us praise you Lord with voice and mind and deed and since life is your gift, may all we have and are be yours, thro Christ Our Lord. Amen