Prayer of the Day
Feast of St. Oliver Plunkett, Bishop & Martyr
July 1st, 2014
""Why are you so afraid?""
Matthew 8 : 26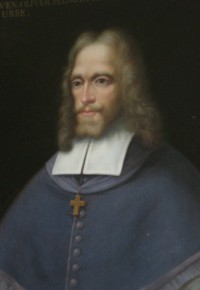 One of the great gifts the Lord has given us is our imagination.  With eyes of faith our imagination can picture the life and death drama unfolding on the lake as Jesus slept comfortably and undisturbed. The story of the boat shows us the nearness of God,  and how he keeps watch over the Church's boat throughout the storm.  For the disciples,  who per fishermen,  the sea was hostile.  There are people so centred that they can wade through storms and turbulence without being ruffled.   Jesus slept through the storm while the disciples struggled mightily against it.  In the end,  they had to call on the Lord for help.   He got up,  rebuked the elements,  and peace and calm were restored.  His inner calmness and peace changed the environment around him.  "Why are you afraid,  you of little faith?" might seem to us a little unfair, but it strikes at the very heart of who Jesus is.  Jesus is the Lord of heaven and earth,  of sky and sea,  of what is seen and unseen.
"Do not be afraid" is mentioned in the Bible 360 times.  The disciples did have faith,  but they had to strengthen that faith.  Can I hear Jesus saying to me when I am in trouble; "Do not be afraid."   The storms within myself can be:- Lack of forgiveness when I am hurt.  Lack of acceptance of others.   Just as the Lord commanded the waves to be still,  so too he commanded the waves of our emotions to be still and calm because he is Lord.  Today is the feast of St. Oliver  Plunkett of Irish nobility,  he was appointed Archbishop of Armagh in 1669,  and he was forced to conduct a covert ministry during the suppression of priests.  He was arrested and tried at Dundalk in 1679 for conspiring against the state.  He was martyred on July 1st 1681 at Tyburn.  His head and some relics are in St. Peter's Church, Drogheda and his body is at Downside Abbey,  England.
Prayer
Lord, just as St. Oliver Plunkett gave his life to you and paid the ultimate price for his faith, may we too give our lives in humble and dedicated service. Amen