Prayer of the Day
Feast of St. Otteran, Monk
October 27th, 2015
"The birds of the sky dwell in its branches."
Luke 13 : 19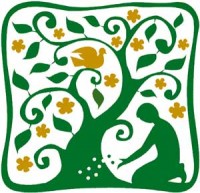 Jesus compares the Kingdom of God to two simple,  natural things – a mustard seed and yeast.  These parables of the mustard seed and of the leaven show how God works to bring his Kingdom to life in every individual,  so that we grow in the way he intends.  The mustard seed was the smallest used by Palestinian  farmers.  The amazing thing about it was that despite its size,  the plant could grow to over ten feet high.  It is also like yeast hidden and dispersed in a batch of dough tat mysteriously and quietly caused the whole batch to rise and grow in size.   We, as followers of Christ,  are called to spread the seed of his word.  We cannot always see God working in our lives,  but he wants to take our tiny seed of faith,  the beginnings of his life in us,  and nurture it until we become everything that he has planned for us since the day of our birth.
Saint Otteran,  whose feast we celebrate today,  preceded Columba in Iona.  His death is recorded in 548,  and his grave was greatly revered in Iona.  He was chosen by the Vikings as patron of the city of Waterford in 1096,  and later patron of the Diocese.
Prayer
Loving Father, by the power of your Holy Spirit, draw us more deeply into the mystery of your Son Jesus. Amen