Prayer of the Day
Feast of St. Peter and St. Paul, Apostles
June 29th, 2015
""But you, who do you say that I am?""
Matthew 16 : 15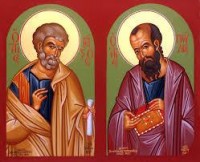 To-day the Church celebrates the feasts of two of her greatest saints – Peter the first Pope and Paul,  Apostle to the Gentiles.  Tradition tells us that they were martyred together in Rome where they have been venerated by Christians from the earliest times.  The celebration of their common feast day is a symbol of God's love for all people,  Jews and Gentiles alike.   To-day's Gospel recalls the incident when Our Lord asked his Apostles that very important question; "who do you say I am?"  It was Peter's respone; "You are the Christ, the Son of the living God" that inspired Jesus to make him head of his Church with the words' "You are Peter and on this rock I will build my Church." (Matthew 16 : 18)
We are blessed to have many writings of Ss. Peter and Paul in Sacred Scripture.  All of them speak to us of the deep faith these men had in the Lord Jesus.   The Good News which they proclaimed boldly near and far was about Jesus Christ the Son of God who became man lived among us,  died,  rose again and is now with us through his Holy Spirit.  Peter and Paul had both experienced the Risen Lord and they were on fire with zeal to share his love with others.
As baptised Christians we are all being asked that question; "Who is Jesus for me?"  Have I got a personal relationship with the Lord?  Pope Francis reminds us that we are all missionary disciples called to proclaim the Gospel.  He writes in his Apostolic Exhortation; "The Joy of the Gospel" "Mission is at once a passion for Jesus and a passion for his people." (No.2 68)  May the example of Ss. Peter and Paul inspire us to deepen our relationship with the Lord and make him known to others with Joy and enthusiasm.
Prayer
Lord we thank you for St. Peter and St. Paul. We ask thro' their intercession that you raise up in your Church many new spirit filled Apostles who will boldly proclaim the Good News throughout the world. Amen