Prayer of the Day
Feast of St. Peter Chrysologus, Bishop
July 30th, 2014
""Why is my suffering continual? If you come back, I will take you back into my service.""
Jeremiah 15 :10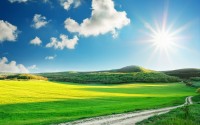 Our faith can be shaken to the point where we begin to question whether God really is with us. Jeremiah has important words for us at times like these: God has not abandoned us! As a prophet of the Lord, he went through difficulty himself. Just think of how he felt when he was arrested and almost killed for speaking the word of the Lord. Or imagine what it cost him to experience in his own heart the pain that God feels when his people turn from him. In the midst of these hardships, Jeremiah cried out to God, and God comforted him. Did he have to continue on despite the difficulty? Yes. But God affirmed that he would always be with Jeremiah and would deliver and rescue him.
  Do you feel that your relationship with God is not what it once was? Don't give up! It's precisely at those times when you don't feel God's presence that you need to exercise your faith all the more.   Choose to keep going, even if you are apprehensive. You will find the Lord walking with you, even if it's in unexpected ways.
Prayer
"Father, help me to see that you are always with me. I believe that you have not abandoned me. I trust in your unfailing love." Amen