Prayer of the Day
Feast of St. Peter Claver, a priest who cared for African slaves) & St. Ciaran, Abbot, also known as one of the Twelve Apostles of Ireland
September 9th, 2015
"You must look for the things that are in Heaven, where Christ is sitting at God's right hand."
St. Paul to the Colossians 3 : 1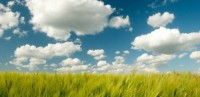 In today's reading we have a strong exhortation by Paul to renounce all that doesn't lend itself to leading a good life.  In fact it is the opposite of all we read about in our journals today, where, to get the best out of life we must put in just what suits us, only what pleases us, and let the rest of the world take care of itself!   Here, Paul tells us to put on a new self image—one renewed by Christ, which doesn't  distinquish between classes of people, or nationalities or gender.  How far are we prepared to change our set opinions, our class consciousness,  and all that divides and separates us?
Prayer
Lord, help us to see with your eyes, to speak with your lips and to perceive the good in others always. Amen