Prayer of the Day
Feast of St. Peter Damian
February 21st, 2015
""Leaving everything he got up and followed him.""
Luke 5 : 28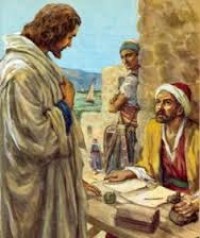 Tax collectors like Matthew were detested and despised for helping Israel's pagan conquerors and defrauding their own people.  Jesus saw him sitting in his tax booth and his conversation with him was brief.  He simply said; "Follow me."  Matthew did just that.  He got up, left everything and followed him.  Jesus called Matthew in a public place,  perhaps to show that he was anxious to help sinners and outcasts.  We can rejoice that Jesus came to help the sick,  for we are all sinners in need of salvation.
The Pharisees despised those who did not fully keep the law,  and had no dealing with them.  They were more concerned with keeping themselves pure then bringing sinners to God.  Jesus' response to their criticism is unanswerable;  he mixed with sinners because they were the ones most in need of his help.   This season of Lent,  while marked by fasting and penance,  is also a time to rediscover the joy of knowing that we are loved and accepted by God even though we are sinners.  When we are able to recognize that this is so,  we shall recognize too that it is for us that Jesus came.  We,  like Matthew,  are called to turn away from sin and to be faithful to the Gospel.  We are also called to reach out to those who do not know the love of Christ.
Prayer
Lord Jesus, we thank you that you came to save us. May we experience the joy of forgiveness and imitate you in helping sinners rather then judging them. Amen