Prayer of the Day
Feast of St. Peter & St. Paul, Apostles
June 29th, 2016
"Jesus put this question to his disciples; 'Who do people say the son of man is?'"
Matthew 16 : 13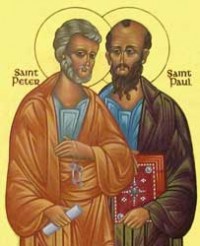 When Jesus put the question to his disciples they answered by stating what the common view was viz. that Jesus was one of the great prophets come back to life.  This belief may have stemmed from what we find in the Book of Deuteronomy where God said he would raise up a prophet from among the people.  Jesus then turned to Peter and asked him the question; 'But you,  who do you say I am?'  Peter confessed Jesus as Divine and as the promised and long – awaited Messiah.  The question has to be answered personally.
Today is the feast of Ss. Peter and Paul, Apostles.  St. Peter,  originally called Simon,  a fisherman who became leader of the Apostles and the rock on which the Church is built,  died by crucifixion in Rome around the year 64.  St. Paul,  Saul the Pharisee,  who became the 'Apostle of the Gentiles',  was martyred by beheading around 67.  Both proclaim with their lives that Jesus is the Christ,  the Son of the living God.
Prayer
I believe Lord, help that part of me that doubts. Amen