Prayer of the Day
Feast of St. Pius of Pietrelcina (Padre Pio), Priest
September 23rd, 2016
"One day when Jesus was praying along, his disciples came to Him and he put this question to them; 'Who do the crowds say I am?'"
Luke 9 : 18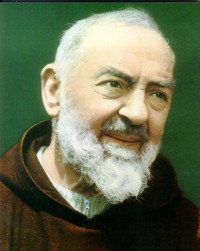 In today's Gospel Peter humbly confesses that Jesus is indeed the Messiah.  No wonder Christ gives him the special responsibility of confirming his brothers and sisters in the Faith.
Today is the feast of St. Padre Pio who died 23 September 1968.  He was a Capuchin Friar,  stigmatist,  confessor and friend to all who suffered.  Pope John Paul II declare Padre Pio a saint on 16 June 2002.  Padre Pio often said, "After my death I will do more. My real mission will begin after my death."  The accounts of those who stayed with Padre Pio till the end, state that the stigmata had completely disappeared without a scar. Only a red mark "as if drawn by a red pencil" remained on his side but it disappeared.
Prayer
Blessed be the Lord my rock. Amen