Prayer of the Day
Feast of St. Pius ( Padre Pio) and St. Eunan
September 23rd, 2014
""To act justly and virtuously is more pleasing to the Lord than sacrifice.""
Proverbs 21 : 3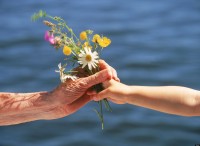 God is pleased when we are just in our dealings with others and are upright in our way of life.  Such an attitude influences others.  They notice how we live our lives and are encouraged to do the same.  Actions speak more loudly than words and God is pleased with our efforts.
Today is the feast of St. Pius (Padre Pio) who died 23rd September 1968.  He was a Capuchin friar,  stigmatist,  confessor,  and friend of all who suffer.  Also today we celebrate the feast of St. Eunan (Adomnán) who was born in Donegal 624 and died in 704.  He became a monk in Iona and was chosen abbot there in 679.  One of his writings is the life of Colum Cille.
Prayer
Make us holy, O Lord, and help us to live our lives in such a way that others will come to follow us. We rely on the Lord to help us in our efforts for without His help we can do little. Amen