Prayer of the Day
Feast of St. Pius x, Pope
August 21st, 2015
"On these two commandments hang the whole law and the prophets."
Matthew 22 : 40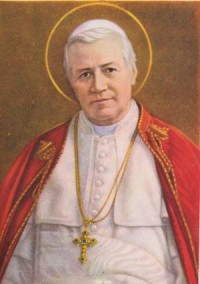 Jesus is still being pursued by the Pharisees.  They put him to the test by asking him what in his opinion.  What is the greatest commandment of the law? Jesus gives them his candid reply.
Today is the feast of St. Pius X, 1835 – 1914,  Cardinal Patriarch of Venice,  then Pope from 1903.  He encouraged pastoral liturgy and sacramental practice,  especially of frequent communion,  to which he admitted young children.
Prayer
Jesus, open our heart s to these two commandments; love of God and love of our neighbour. Help us realise that there is only one love, love of God and love of one's neighbour. Life in the world could be so different if we took to heart these words of Jesus. Amen