Prayer of the Day
Feast of St. Raymond of Penyafort
January 7th, 2015
""The kingdom of heaven is close at hand.""
Matthew 4 : 17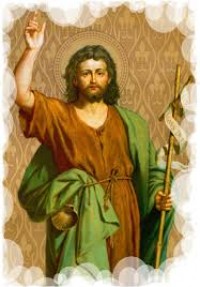 After the arrest of John the Baptist by King Herod Jesus began his preaching and healing ministry.  The Good News which Jesus preached can be summarised in the sentence:  "Repent, for the kingdom of heaven is close at hand."  The
word 'repent' is nearer to the Greek word 'metanoia' which means seeing things in a radically new way.  We have to note also that when Matthew uses the words 'kingdom if heaven' he means 'kingdom of God'.  Jews believed that God's name was too holy to be spoken or written down by humans so Matthew substituted the word 'heaven' for 'God'.    We will experience metanoia if we keep our eyes focused on the words and actions of Jesus in the gospels. It will radically change our way of seeing and acting.  As we begin our journey with Jesus in today's gospel we notice the great compassion that he displays towards the sick, "he healed all kinds of diseases and sickness among the people."  Many among the crowds who followed Jesus were not physically sick but were in need if inner healing which they found through the teachings of Jesus.  The God that Jesus spoke about is the God of love and compassion who loves each person with a total unconditional love.  If we
really accepted this one fact it would totally change our response to and
relationship with God.
Prayer
Lord, make us instruments of your healing love so that we too can usher in your kingdom. Where there is hatred, let us sow love. Where there is injury pardon; where there is doubt faith; where there is despair hope; where there is darkness light; and where there is sadness joy. Amen