Prayer of the Day
Feast of St. Robert Bellarmine
September 17th, 2014
""We piped you a tune and you wouldn't dance.""
Luke 7 : 32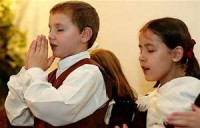 Jesus likens the refusal of those around him to accept God's plan to the stubbornness of children who always want things their own way.  John the Baptist's radical call to conversion and repentance is rejected because they think he is demon possessed.  Jesus' radical call to new life and transformation is rejected because they think he is a glutton and drunkard.   Jesus does not defend John or himself.  He simply invites his critics to judge the fruit of his life.
One way to take a stand against fickle human behaviour,  is to pray and intercede for God's grace to enlighten minds and hearts.  Through personal prayer,  and the communal prayer of the Church,  especially in the Mass,  we worship and praise God.  We express sorrow for our sins,  and we intercede on behalf of others.  Through prayer,  we grow in our relationship with Christ and with members of God's family.  The everyday routine of our lives cannot be an excuse for not encountering God's presence around us.  Rather,  we must be renewed in faith and convinced of the truth that our God is present and near us now,  today and at every moment.
Today is the feast of Saint Robert Bellarmine who was born in Tuscany in 1542.  He was a Jesuit and was appointed Bishop in 1602.  He was a very pastoral Bishop,  visiting,  preaching and giving the example of a truly Christian life.  He died in 1621
Prayer
Lord Jesus, grant me the grace to love those who oppose your work. May I look at the world with the eyes of faith. Amen