Prayer of the Day
Feast of St. Rose of Lima & St. Eugene (Eoghan)
August 23rd, 2014
""All who exalt themselves will be humbled, and all who humble themselves will be exalted.""
Matthew 23 : 12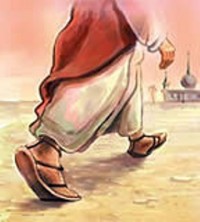 Today's Reading is about the Denunciation of the Scribes and Pharisees.   They do not practice – according to Jesus' descriptions the Scribes and Pharisees are villainous characters too bad to be true.  They seem to be greedy,  vain,  proud and hypocritical.  The worst thing that they ever did was to use religion itself as a cover up for their hidden agenda in life.  These sketches are justified.  When religion is used for selfish interests,  it is a capital offence against God.
Just think of the damage to unwary followers,  a great number could be lost.  Jesus has exposed scallywags in shepherd's clothing.  It is the duty of every Christian to do the same in regard to modern Pharisees who instead of being good shepherds of the Lord's flock are hired hands who hardly know the sheep and the great calling overthrown.
Prayer
God, our Father, you know us better than we know ourselves. Your Son, Jesus, calls on us to love, serve and follow His way. Amen