Prayer of the Day
Feast of St. Silvester I, Pope
December 31st, 2014
""The Word was made flesh.""
John 1 : 14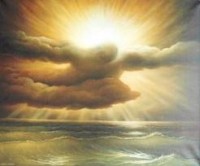 Why does John the Evangelist begin his gospel with a description of the Word of God which began the creation of the universe and humankind in the first book of Genesis?    God's word in the Old Testament is an active, creative, and dynamic word.    
John describes Jesus as God's creative, life-giving and light-giving word that has come to earth in human form. "God so loved the world that he gave his only Son, that whoever believes in him should not perish but have eternal life" (John 3:16  
Christians never cease proclaiming anew the wonder of the Incarnation. The Son of God assumed a human nature in order to accomplish our salvation in it. The Son of God …worked with human hands; he thought with a human mind. He acted with a human will, and with a human heart he loved.  Born of the Virgin Mary, he has truly been made one of us, like to us in all things except sin (Gaudium et Spes).
  God's purpose for us, even from the beginning of his creation, is that we would be fully united with Him.  Do you thank the Father for sending his only begotten Son to redeem you and to share with you his glory?
Prayer
Lord, open our hearts to receive new life and increase our vision with the rising of dawn, that our lives may be filled with your glory and peace. Amen