Prayer of the Day
Feast of St. Simon and St. Jude
October 28th, 2014
""When day came, he called his disciples and chose twelve of them.""
Luke 6 : 13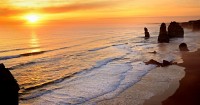 St. Luke portrays Jesus as a man of prayer.  So it was when he had spent the whole night alone on the mountain,  in close communion with his Father,  that he chose his twelve Apostles calling each one by name to be with him and to share his mission.  The choosing of the twelve is a turning point in Our Lord's life.  It is the beginning of his new community – the group he will form to continue his work.
Let us look at these men whom Jesus chose after spending the night in prayer.  They were just ordinary people – several fishermen amongst them.  Some will become will known to us like Peter who became the first Pope.  Others like Simon and Jude,  whose feast we celebrate to-day will be only names.  We know that Simon was called the Zealot and Jude was the brother of James.   What we also know is that these men were faithful to their calling and dedicated their entire lives to spreading the Gospel.  To-day we honour them as martyrs.
The fact that Our Lord chose very ordinary people to be his Apostles is encouraging for us.  It shows that we too can be used in the Lord's vineyard.  Isn't this the message that Pope Francis is spreading in his Apostolic Exhortation 'The Joy of the Gospel.'  In it he states clearly that all the baptised,  whether they be clerics or laity,  educated or not,  are called to be personally involved in the Church's mission of evangelisation.   He challenges each of us to be a missionary in our daily encounters with others.  It's simply a question,  he says,  of bringing the love of Jesus which we have experienced in our lives to others.  (Joy of the Gospel 127 – 129)
Prayer
Lord of the harvest we pray you send labourers into the harvest and let them proclaim the good news with joy filled hearts. Amen