Prayer of the Day
Feast of St. Stephen, First Martyr
December 26th, 2015
""Blessed are the pure in heart they shall see God."
Matthew 5 : 8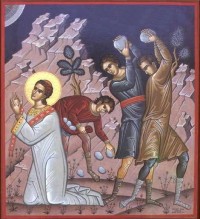 This Beatitude speaks about what Jesus said when he taught the people who followed him.  Let us follow him and listen to what he is telling us to-day about what we must do to see God. In our own lives there is a message from Jesus for you and everyone who reads it.
St. Stephen is honoured to-day as the first martyr (in the calendar) and his dying words were; "I can see heaven open and the Son of Man standing at the right hand of God."   "Blessed are those who suffer persecution for justice sake for theirs is the Kingdom of God." (Matthew 5 : 10)  These are Jesus' own words.
I think God hears the prayers of all his Saints.  Saul saw the garments of Stephen at his feet while Stephen was stoned to death.  Stephen's prayer was; "Lord, do not lay this sin against them."   Saul heard the prayer Stephen said.  I like to think that Paul's conversion began when Stephen prayed.
Prayer
We give thanks to God for all those who lived and worked that justice would prevail among the people of God, many still living to-day suffer in prisons. We pray for justice in governance and righteousness in persecuted areas where human rights are denied. St. Stephen and all martyrs for justice and right judgement pray for us, we ask this through Jesus Christ. Amen