Prayer of the Day
Feast of St. Teresa of Ávila
October 15th, 2015
"Alas for you lawyers who have taken away the key of knowledge! Yu have not gone in yourselves and have prevented others going in who wanted to."
Luke 11 : 52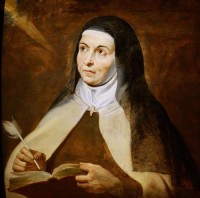 We ask "How did the experts take away the key to knowledge?"  This happened through their erroneous or crooked interpretations of Scripture and by adding man-made rules. They made God's truth hard to understand and practise. Moreover, these men were bad examples, arguing their way out of the demanding rules they placed on others. Caught up in a religion of their own making, they could no longer lead the people to God. They had closed the door of God's love to people and had thrown away the key.
The teachers of the law and the Pharisees hoped to arrest Jesus for blasphemy, heresy and law-breaking. They were enraged by Jesus' words about them, but they couldn't arrest him for merely speaking words. They had to find a legal way to get rid of Jesus.
Prayer
Lord, help me to be honest and courageous in my response to your word as it comes to me each day in the Scriptures. Amen