Prayer of the Day
Feast of St. Teresa of Avila
October 15th, 2014
""Whoever remains in me with me in him, bears fruit in plenty,""
John 15 : 5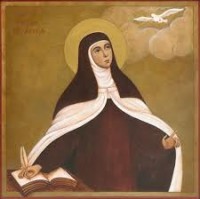 Some branches produce fruit and are pruned, cared for and nurtured. Some branches do not produce fruit and are removed, thrown away and burned.  We have been convinced that productivity is the goal and only the fittest survive.  Jesus is not talking about or demanding productivity.  He wants and offers connectivity, relationship, and intimacy.    We do not choose whether or not we produce fruit. We do, however, choose where we abide and how we stay connected.
 It is the invitation to join the conversation, to participate, and to live fully alive. That only happens when the life, the love, and the goodness and holiness of Christ flow in us. We become an extension of and manifest his life, love, and holiness.
It is a relationship of union even as a branch is united to the vine.  We live our lives as one.  Love for Jesus, one another, and self  becomes one love.  We soon discover we are living one life and the fruit of that life and love is abundant, overflowing, and Father glorifying.
Prayer
Lord our God, you have given us your Son Jesus Christ as the true vine of life and our source of strength. Help us to live his life. Let our union with him become visible in our openness to one another and our unity as brothers and sisters, now and forever. Amen