Prayer of the Day
Feast of St. Thérèse of Lisieux
October 1st, 2015
"Go on your way, behold I am sending you."
Luke 10 : 3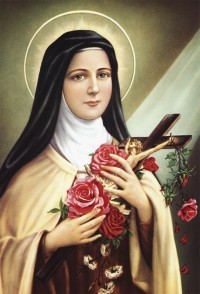 Travelling to Jerusalem Jesus sends out in pairs His followers who will extend His Ministry of healing and preaching the Kingdom of God to all who will welcome them.   The task of preaching and spreading the Word of God is so great that it cannot be restricted to the Twelve.  It must be carried out by the Seventy-Two and others,  still these will not be enough.  Jesus tells the disciples that the harvest is enormous compared to the small number of evangelizers,  so they pray for more workers.  The Seventy-Two are given the same instructions as the Twelve.
Today is the feast of St. Thérèse of Lisieux who died on 30th September 1897.  She was declared a doctor of the Church by St. John Paul II in 1997.  She is Patron Saint of France.
Prayer
Lord Jesus you are always with us, burning with love, sometimes we forget you are there, but you conquered death in order to be with us forever. Lord hear us. Amen