Prayer of the Day
Feast of St. Thomas, Apostle
July 3rd, 2014
""My Lord and my God.""
John 20 : 28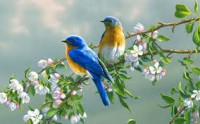 St. Thomas could be described as the patron saint of doubters.  Just as Judas is known as a traitor, so Thomas is known as a doubter.  There are two kinds of doubt;  healthy doubt and unhealthy doubt.  Healthy doubt can be part of the process of faith,  and the doubt that Thomas displayed was a healthy doubt.
On the evening of the day of the Resurrection,  Jesus appeared to this fearful disciples to assure them that he was not a ghost,  but the self-same Jesus of Nazareth,  their Master.  For the disciples,  "seeing is believing."   Thomas who was not around,  said; "Unless I see the Risen Lord,  touch him and feel him for myself,  I will not believe."   What conquers Thomas is Jesus' direct response to his disbelief,  not his examination of Jesus' body.  His confession "My Lord and God" conveys his deep shame and reverence at seeing Jesus' divine glory and the strong personal sense with which he yields to Jesus' invitation; "Do not be unbelieving,  but believe."
Faith is like a fire kept alight by the flame and wind of the spirit.  Today,  we celebrate this great saint of the Church and give praise to God for his witness as one who came to believe in the risen and glorified Lord Jesus.
Prayer
Lord Jesus, I believe, help me to grow in faith, and teach me to be compassionate towards those who struggle. Amen