Prayer of the Day
Feast of St. Thomas Becket, Bishop & Martyr (Patron of the Pastoral Clergy of England)
December 29th, 2014
""Do not be afraid of those who kill the body.""
Matthew 10:28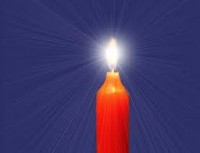 Is there anything holding you back from the joy and freedom of the Lord? God wants our hearts for him and for his kingdom of peace, joy, and righteousness (Romans 14:17).  
 The Lord knows our struggles, weaknesses, and shortcomings.   He assures us that we do not need to carry our burdens alone nor struggle without his help. He is always very present and ready to give us whatever strength, guidance, and help we need to fight temptation and to stay the course which he has set for us. But there is one thing he doesn't tolerate: indifference, an attitude of not caring, and doing nothing! The Lord wants us to cast our anxieties on him and to ask for his guidance and help. Do you pray for God's strength and wisdom?
Prayer
"Lord Jesus, rouse my spirit to the truth that this world is passing away. Give me a lively faith, a joyful hope, and a fervent love to see you face to face when you return in glory." Amen