Prayer of the Day
Feast of St. Thomas Becket, Bishop & Martyr
December 29th, 2015
"Anyone who loves his brother is living in the light."
1 John 2 : 10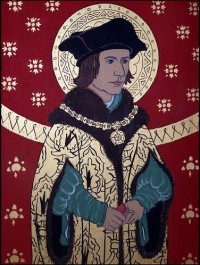 This statement corresponds to the first of the Ten Commandments God gave to Moses on Mt. Sinai; "Love God and love your neighbour."  God was reminding us here that our first duty is to God and then to our neighbour.  We are all made in God's image and likeness.  Hence,  we are all equal in God's sight.  The darkness of the Old Testament has gone.  Light has come into the world with Jesus.  John the Baptist came to be a witness to that light and pointed out Jesus to the people when he came.  Jesus is the light of the world.  If we want to be like him we must keep his Commandments.  "The one who loves me will be loved by my Father also." (John 14 : 21)
Jesus wants to enter into our hearts,  to become our friend.  He is always there for us.  His love for us is beyond our capacity to understand – beyond all telling.  We don't have to earn it.  We don't deserve it.  God just simply loves us just as we are – warts and all.   After all He created us.  We are His.  We belong to God.   All He wants from us is love.  When we love God,  our brother and neighbour is loving Him too.  For we are all one in God.  What we do to our neighbour good or bad is done to God also.
Prayer
Let us pray and thank God for loving us and never forgetting us even when our hearts are far from him. Come Lord and dwell with us. Am