Prayer of the Day
Feast of St. Vincent de Paul, Priest
September 27th, 2016
"He set his face to go to Jerusalem."
Luke 9 : 51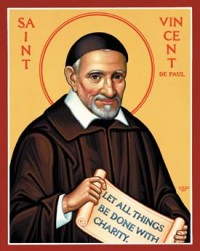 In today's Reading Job is a happy man until his situation changes and disasters befall him.  Job knew in his heart that he had not sinned.  However,  he accepts his situation and counts completely on God,  then he finds peace. (Job 9 : 1 – 12)
Today the Church celebrates the Feast of St. Vincent de Paul,  1580 – 1660.  His outstanding love for the poor is kept alive through the great work of the Society of St. Vincent de Paul.  He is Patron of all charitable works.
Prayer
Let my prayer come into your presence, O Lord. Amen