Prayer of the Day
Feast of St. Vincent de Paul
September 27th, 2014
""Vanity of vanities, the Preacher says. All is vanity.""
Ecclesiastes 11 : 9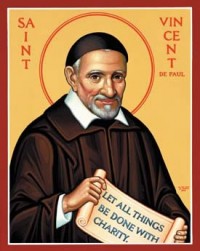 This passage reminds us of the shortness of life.  Even the oldest person you know will tell you how quickly life passes.  As you look back,  you ask yourself where the years have gone.  They are gone before we realise how quickly they have passed by.
Today is the feast of St. Vincent de Paul, 1580 – 1660.  He committed himself to the care of the disadvantaged and the oppressed.  He founded the Congregation of the Mission (the Vincentians) and the Daughters of Charity.  He is the patron of all charitable works.
Prayer
God, how sobering this passage is. Life moves so rapidly day by day, year by year, we scarcely notice it. Many precious opportunities are lost. Keep me in your way all the days of my life. Amen