Prayer of the Day
Feast of St. Wenceslaus, Martyr, Ss. Laurence Ruiz and Companions
September 28th, 2015
"Luke 9 : 46"
The Disciples ask Jesus who is the greatest in the Kingdom of God.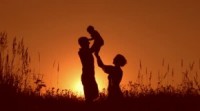 Jesus replies and points out that a child has no legal personality in Israel and is totally dependent on its parents.  Jesus invites the disciples to see the Kingdom of God as a gift from the Father,  not as something earned through ones efforts.  He asks them to accept their weaknesses and to find their strength in God.
The beauty of the Father  – child relationship is implied in these verses.  By pointing to a child as a model for one who aspires to enter the Kingdom,  Jesus speaks of a God who is not a dictator imposing rules on his children,  but a Father who gives generously,  and loves unconditionally.
Prayer
Lord, God, strengthen our faith that our relationship with you, through your Son, may remain forever the source and centre of our lives. Lord hear us. Amen