Prayer of the Day
Feast of Sts. Joachim and Anne (Anna)
July 26th, 2014
""Let us praise illustrious men (and women) our ancestors in successive generations. In their descendants there remains a rich inheritance born of them. Their descendants stand by the covenants.....""
Ecclesiasticus 4 : 4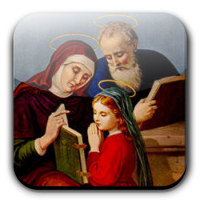 We owe our faith to our parents and those who have gone before us.  How true this is and how wonderful that the precious new of our salvation was given to us through our parents and all who supported our growth in the faith.   Let us praise and thank God for this gift which is a blessing for us and a kindness from God our Saviour.
Sts. Joachim and Anne (Anna), traditionally named parents of the Blessed Virgin Mary and grandparents of the Lord.   St. Anne is Patron of Canada,  women in labour,  miners,  cabinet-makers and home-makers.
Prayer
We thank you Lord for the gift of our faith and the support of those who supported us on our life journey. Let us treasure this gift and be faithful to it all the days of our life. Amen