Prayer of the Day
Feast of Sts. Muredach, Bishop, Attracta & Lelia
August 12th, 2014
""Anyone who welcomes a little child in my name welcomes me.""
Matthew 18 : 5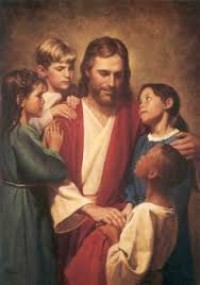 The disciples,  always anxious to be celebrities had asked Jesus who was the greatest in the Kingdom of Heaven. Imagine their surprise when he picked a small child to be their model.  Our Lord then went on to identify himself with children saying that in welcoming them we are welcoming him.   Hospitality is a very important Christian virtue.  The way of the world is to honour and welcome the V.I.Ps but the way of the Gospel is to welcome the child and those whom society considers to be unimportant.  And the Good News is that in welcoming them we are welcoming Jesus himself.   Later in Matthew's Gospel we will hear Our Lord say very plainly; "Whatsoever you do to the least of my brethren you do to me." (Matthew 25 : 40)
Blessed Teresa of Calcutta was inspired by this truth to dedicate her life to the poor of Calcutta – the lepers,  the outcasts,  the unwanted.  We may wonder how she was able to do this day in,  day out and with a smile !   She herself said it was because she began her day by welcoming the Lord into her heart in the Eucharist.   We may not be able to celebrate the Eucharist every day but we can always deepen our relationship with the Lord in prayer and he will surely help us to reach out and welcome those we meet during the day.  Of course,  this loving welcome should begin with our own family – a word of encouragement,  a smile,  a listening ear,  all the best gifts we can offer.
Prayer
Lord you always had an open, warm and welcoming heart for all who came to you. Make our hearts like unto thine. Amen