Prayer of the Day
Feast of the Assumption of the Blessed Virgin Mary
August 15th, 2014
""From now on all generations will call me blessed; for the Almighty has done great things for me. Holy is his name.""
Luke 1 : 48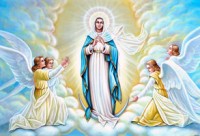 To-day the Church celebrates the beautiful feast of Our Lady's Assumption into Heaven.  It's a day of great rejoicing as we look backwards in gratitude to that time when at the end of her mortal life Mary was taken into God's presence as a whole human being.  Our joy increases as we also look forward in hope to that day when we too will be in God's presence with Our Lady and all the Saints.
The Gospel chosen for to-day's feast is Mary's song of praise and thanksgiving when she visited her cousin Elizabeth.  Realising that she was blessed by God,  this hymn of praise came naturally to her lips.   Like Mary,  each one of us has been blessed by God,  in many ways but we often forget to give thanks.
Some time ago I overheard a conversation between a priest who had made a good recovery from an operation and a parishioner who told him he was very lucky.  The priest's reply has remained with me. "The word lucky is not part of my vocabulary.  I am blessed."   Like Mary,  that priest knew that God is the author of every good thing that happens to us.  So his response to a successful operation was to give thanks.  The greatest prayer of thanksgiving is of course,  the Mass but we can cultivate a grateful attitude,  by opening,  our hearts to the blessings of life.  It's lovely to hear a person who is carrying a heavy cross say; "Thank God to be as well as I am."
Prayer
Lord we rejoice to-day in your gifts to our Heavenly Mother. We thank you for all the blessings you have bestowed on us. May we always be grateful. Amen