Prayer of the Day
Feast of The Baptism of The Lord
January 10th, 2016
"While Jesus after his own Baptism was at prayer, heaven opened."
Luke 3 : 15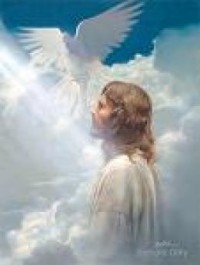 A feeling of expectancy had grown among the people, who were beginning to think that John might be the Christ, so John declared before all, ''I baptize you with water, but someone is coming, someone who is more powerful than I am, and I am not worthy to undo the strap of his sandals; he will baptize you with the Holy Spirit and fire.''
Now while all the people had been baptized and while Jesus after his own baptism was at prayer, heaven opened and the Holy Spirit descended on him in bodily shape, like a dove. And a voice from heaven came, 'you are my Son, the Beloved, my favour rests on you.''
Jesus' life begins and ends in prayer. During his earthly ministry he prayed. The choice of the twelve apostles, healings, moments in his life he went apart to pray to his Father in secret. God's plan is now made known through Jesus. His baptismal consecration begins with the journey to Jerusalem. This takes him to Calvary.
Prayer
God our Father, Jesus' life was close to you in prayer. Amen