Prayer of the Day
Feast of the Baptism of the Lord
January 11th, 2015
""In those days Jesus came from Nazareth in Galilee to be baptized by John in the Jordan.""
Mark 1 : 9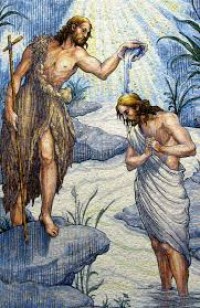 All four Gospels relate this very important incident in Our Lord's life.  To-day,  at the age of thirty,  Jesus leaves his home,  his mother,  his hidden life to begin his public mission.  He doesn't mark the occasion with a great fanfare but rather comes as a humble pilgrim to join the queue of sinners and be baptized by his cousin John in the waters of Jordan.  John recognises his utter unworthiness to perform this ritual but at the Lord's request he agrees and so Jesus goes down into the water to make himself one with sinful humanity.  He who is sinless takes upon his shoulders the burden of sin of the whole of humanity.  To-day the season of Christmastide draws to a close with Our Lord's Baptism.  Just a few weeks ago we heard the Angels announced to the Shepherds the Good News of the Saviour's Birth.  Later on a star led the Magi from the East to worship the child of Bethlehem.  To-day it is the Father's voice from Heaven that proclaims to the world that Jesus is truly his Beloved Son.  The Holy Spirit also makes his presence felt in the form of a dove as He anoints Jesus for his mission to all mankind.
As we celebrate this beautiful feast to-day,  let us recall with gratitude and a sense of wonder our own Baptism and maybe the Baptism of our children.  We can truly say the skies are opened each time the priest pours the water saying; "N…. I baptize you in the name of the Father and of the Son and of the Holy Spirit."  Each one of us is baptized into the very life of the Trinity – we belong to God's own Family.  We are indeed temples of the Holy Spirit,  having God as our Father and Jesus our Brother.   Let us then recognise our dignity as God's children and with the help of the Holy Spirit let us strive to be a leaven in Society building a civilisation of peace,  justice and love.
Prayer
God our loving Father, we thank you for the grace of our Baptism. Give us your Holy Spirit so that we may live as your children and make known your Son and our Brother Jesus the Lord. Amen