Prayer of the Day
Feast of The Church of St. John on the Lateran
November 9th, 2015
"Stop making my Father's house as a market."
John 2 : 16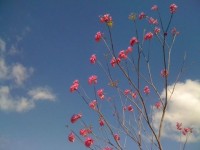 Jesus is so angry at seeing the temple desecrated by the buyers and sellers that he drives them out. The Jews do not understand his reaction.  In his explanation Jesus foretells his own resurrection.  At the time no one understood his words.
The church of St. John on the Lateran in Rome is 'Mother and Head of all the Churches of the city and the world.  It is the Cathedral Church of the Bishop of Rome,  and was called 'St. John' after the two monasteries once attached,  dedicated to St. John the Divine and St. John the Baptist.  It is,  however,  dedicated to the Most Holy Saviour.
Prayer
Jesus, open my ears to hear your voice. Open my heart and mind to heed your words. Thank you, Jesus, for giving us a glimpse of your love for the Father's house. May we always respect and reverence the house of God and teach others to do the same. Amen