Prayer of the Day
Feast of the Dedication of the Basilicas of St. Peter and Paul
November 18th, 2014
""Today I must stay at your house.""
Luke 19 : 5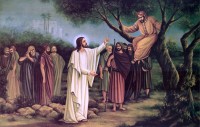 This well-know account of Zaccheus is one of those delightful encounters between Jesus and somebody whose heart was open to conversion.
This man is not simply an anonymous character in the crowd: he is singled out, described as low of stature, and his social status is also mentioned. He belonged to the notorious group of sinners – the publicans, a group with whom Jesus shared meals. He is one of that group, too, whom Luke proposes as a model of the repentant sinner. Moreover he is rich. We've already been told in the Gospel that riches constitute an obstacle for entry into the Kingdom.
Zaccheus' stature prevented him from seeing Jesus and, consequently of not been seen by Jesus. However, social rank and dignity have to be put aside, and Zaccheus climbs a tree to get a better view. Jesus raises his eyes and sees Zaccheus. He says, "I must stay at your house today" – a theological compulsion. The crowd resented Jesus' action.
Zaccheues' conversion is complete and total – he will give half his goods to the poor. The fact that Zaccheus climbed a sycamore tree is not a throw-away bit of information: the sycamore is a young fig tree. We are told that Zaccheus came down from the tree – he was the fruit of the tree, in contrast to the barren fig tree referred to elsewhere in the Gospel.
Prayer
Stay with me, Lord, today. Amen