Prayer of the Day
Feast of the Exaltation of the Holy Cross
September 14th, 2016
"God so loved the world that He gave His only Son."
John 3 : 16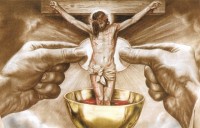 Suffering is a difficult problem.  We often try to flee from it.  The mystery of the Cross is at the very hear of our redemption.  The way of Jesus is the Way of the Cross.  Faith teaches us to see suffering as our sharing in the Passion of Christ and our participation in His redemptive mission.
The discovery of the True cross is dated to 14 September 320.  On 13 September 335,  the Churches on Calvary were dedicated and the Cross that St. Helena discovered was venerated there the next day.  The annual commemoration of that event has been celebrated since,  in praise of the redemption won for us by Christ.
Prayer
Never forget the deed of the Lord. Amen