Prayer of the Day
Feast of The First Martyrs of the Church of Rome
June 30th, 2014
""Master I will follow you wherever you go.""
Matthew 8 : 19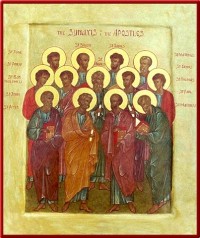 In today's passage,  Jesus is approached by a scribe who is very enthusiastic; "Teacher I will follow you wherever you go."  Jesus knows that his enthusiasm would quickly waver,  and is direct with him explaining that to follow him means sacrifice.   Following the Lord is a serious decision as he does not accept half-hearted responses.  It is either all or nothing.   At times,  the Lord seeks out a few himself.  They may not be that ready,  but it is the Lord who asks them to follow him.  It is he who will supply what they lack.   All they have to do is co-operate with God and he will take care of the rest.
There is no greater cause,  no higher call or more worthy vocation than to be a follower of Christ.   A dedicated Marxist,  having left home,  income and security to further his cause,  observed;  "The Gospel is a much more powerful weapon for the renewal of society than is our Marxist philosophy."  There is no way of escaping the truth that when Christ calls us,  he invites us to come with him and die to the old life in order that we may rise with him to the new life of the Resurrection.
Today we remember the many Christians who were put to death by the Emperor Nero,  after the burning of the city of Rome in 64,  for which they were held responsible.  Their death is recorded by the historian, Tacitus,  and also by Pope Clement I in his letter to the Corinthians.
Prayer
Lord Jesus, I believe that you are the Christ, the Son of the Living God. May this faith change and transform our lives. Amen