Prayer of the Day
Feast of The Guardian Angels
October 2nd, 2014
""Anyone who listens to you listens to me.''"
Luke 10 :16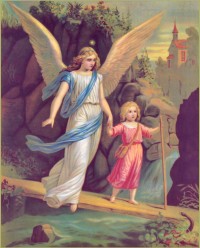 Jesus continues to train his disciples on their mission. In these words He makes them equal to himself. Whoever listens to them listen to him. This is Jesus encouraging his disciples to be like him in their teaching.
Today we venerate the Guardian Angels,  seeking their constant protection.
Prayer
Jesus, fill us, your disciples with faith, hope and love for the mission you have entrusted to us in our earthly life. Let us be always mindful of it wherever we are. Unite to you so that we may truly fulfil the task you give us. Amen