Prayer of the Day
Feast of the Holy Family of Jesus, Mary and Joseph
December 28th, 2014
""The child grew, filled with wisdom." Luke 2 : 40"
Luke 2 :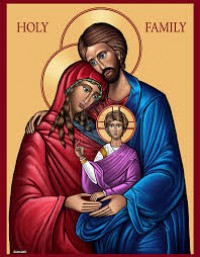 Simeon blessed Mary and Joseph and he prophesied to Mary about the destiny of this child and the suffering she would undergo for his sake. Mary received both a crown of joy and a cross of sorrow. But her joy was not diminished by her sorrow because it was fuelled by her faith, hope, and trust in God and his promises. 
Simeon was not alone in recognizing the Lord's presence in the temple. Anna, too, was filled with the Holy Spirit. How do we grow in hope? By placing our trust in the promises of Jesus Christ and relying not on our own strength, but on the grace and help of the Holy Spirit. Does your hope and fervour for God grow with age?
Prayer
"Lord Jesus, may I never cease to hope in you and to trust in your promises. Fill me with your Holy Spirit that I may always recognize your saving presence in my life. Help me to point others to Christ and to be an example of faith and devotion as Simeon and Anna were to their generation." Amen