Prayer of the Day
Feast of the Holy Innocents, Martyrs
December 28th, 2013
""Out of Egypt I have called my son.""
Matthew 2 : 15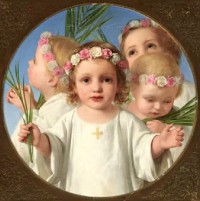 When the Magi had departed,  an angel of the Lord appeared to Joseph in a dream and said; "Rise, take the child and his Mother,  flee to Egypt,  stay there till I tell you.  Herod is going to search for the child to destroy him."   Joseph departed for Egypt,  and stayed there until the death of Herod.
Herod said that sin is a concrete reality,  and our world continues to struggle with it every day.  people are still slaughtered,  molested and raped,  beaten and persecuted.  May the light of our Saviour shine forth and cast out from our world all darkness and sorrow,  and help us overcome anything that hinders God's loving gift of life in our midst.
Prayer
Lord, we pray for all who have to flee their homelands. May God protect them from all danger. We ask this through Christ Our Lord. Amen