Prayer of the Day
Feast of the Immaculate Heart of the Blessed Virgin Mary
June 4th, 2016
"Mary stored up all these things in her heart."
Luke 2 : 50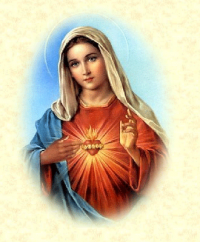 It's fitting that this feast of Our Lady's Immaculate Heart should come beside that of her son's Sacred Heart.  Surely these two hearts are beating with the same ardent love.  If God's love was poured into our hearts at Baptism then surely Mary who was conceived immaculate received that precious gift from the beginning of her life.   This love was nurtured by Mary's loving parents and deepened by meditating of the Word of God as she grew older.  And so it was that she was ready to receive a new outpouring of the Holy Spirit when she graciously accepted God's plan for her at the Annunciation.  Her fiat; 'Behold the handmaid of the Lord' was an act of loving surrender to God.
There are two occasions in Luke's Gospel when we're told that Our Lady treasured the Word of God and pondered it in her heart.  The first occasion was when the shepherds came to the stable in Bethlehem and told Mary about the Angelic Choirs who announced the birth of her son Jesus to them.   Today's Gospel – twelve years later – describes Mary's response to the words spoken by her teenage son with exactly the same words.  Is St. Luke telling us that this was Mary's usual way of responding to God's Word ?  She pondered it in her heart.  No wonder she grew in love and her Immaculate Heart became more like the Sacred Heart of her son Jesus.
Prayer
Mary help us to ponder God's word as you did so that we too may grow in love. Amen