Prayer of the Day
Feast of the most Holy Name of Jesus
January 3rd, 2015
""Look there is the Lamb of God.""
John 1 : 29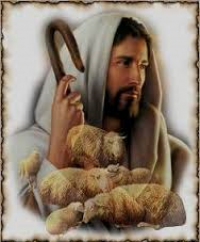 This gospel passage is a reminder of the importance of contemplation in the Christian life. In contemplation, we rest in the presence of God, simply looking at Christ with a steady gaze, and letting him look back at us. This can happen when we're in nature, where we see the hand of God in creation ('I see his blood upon the rose, and in the stars the glory of his eyes'). It can even happen unexpectedly or in unusual situations.
When our gospel passage opens, John is presumably busy baptising the crowds who came for his 'baptism with water'. But when he sees Jesus coming, he does not see him with ordinary sight but, with the eyes of faith, sees something of greater significance: 'Look, the Lamb of God, who takes away the sins of the world!' This is a moment of epiphany (manifestation), and the Baptist sees divine things clearly.
   When we are granted the gift of contemplation, when we can see divine things clearly, are we willing to testify to what we have seen? When we return to the semi-darkness of ordinary experience, are we willing to point to a dim light and say: 'Look, the Lamb of God'?
Prayer
"Lord Jesus Christ, fill me with the power of your Holy Spirit and let me grow in the knowledge of your love and truth. Let your Spirit be aflame in my heart that I may know and love you more fervently and strive to do your will in all things." Amen