Prayer of the Day
Feast of the Most Holy Trinity
May 22nd, 2016
"Everything the Father has is mine; all the Spirit tells you will be taken from what is mine."
John 16 : 12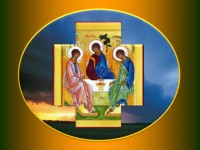 Jesus spent three years instructing his apostles through parables, miracles and teachings but very often they failed to grasp the full implications of his words and actions.  He and his message are different from anything they had ever experienced.  Now during this, his last meal with them, he tells them that whoever sees him sees the Father.  In other words he is the human face of God.  Everything he has done and said during his life with them comes directly from the Father.  He is so emptied and surrendered that the Father is able to fully act through him.  The Father and he are one.  His will is the Father's will.  He knows that the apostles are still unable to grasp the full meaning of his words so he promises that he will send the "Spirit of truth" who will "lead them to complete truth."
Today on Trinity Sunday we try to grasp the mystery of the triune God.  Creation itself speaks to us of the things of God but it is only Jesus who reveals to us the mystery of God.  It is a mystery not easily understood by the apostles nor by us.  After Jesus was taken up into heaven he sent the Holy Spirit to help the apostles and to help the Church in every age.  The role of the Holy Spirit in the Church is to spell out to every generation the contemporary significance of what Jesus said and did.  As we read the sacred words of scripture the Holy Spirit helps us to go deeper and deeper into what it means to be a disciple of Jesus.
Prayer
Spirit of wisdom fill our minds with wonder and awe in your presence which penetrates all creation. Amen