Prayer of the Day
Feast of The Most Sacred Heart Of Jesus
June 3rd, 2016
"The love of God has been poured into our hearts by the Holy Spirit which has been given to us."
Romans 5 : 5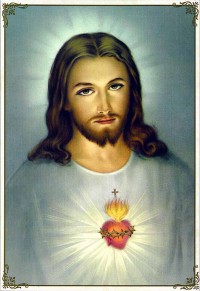 Today is a feast of love,  of God's immense love for us shown in the total self giving of Jesus even unto death.  But Jesus' love for us didn't end with his death on the Cross.  No! Having returned to the Father he sent us the greatest gift of all – the Holy Spirit.  It is through this gift received in Baptism that we can strive to imitate Jesus in his life of self giving love.
Love can be expressed in many ways.  Our love of God will prompt us to be faithful to religious practice and to our daily prayers but it is in what we do and how we treat others that love is made real.  Love means reaching out like Jesus to the lost sheep,  the prodigal son or daughter,  the little ones.  And let us not forget those in our own families.
Pope France in his recent Apostolic Exhortation on 'Love in the Family' has written beautifully on this topic.  He says; 'Each of those who live with us merits our complete attention since he or she possesses infinite dignity as an object of the Fathers' immense love.' (Par. 323)  Let us then ask the Sacred Heart of Jesus on this beautiful feast to help our own family and all families to 'persevere in a love strengthened by the virtues of generosity,  commitment,  fidelity and patience.'  (Par. 5)
Prayer
Most Sacred Heart of Jesus we implore, the grace to love you daily more and more. Amen