Prayer of the Day
Feast of the Nativity of John The Baptist
June 24th, 2015
""His name is John." (Luke 1:57-66, 80)"
Luke 1 : 57 - 66, 80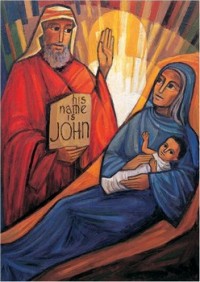 Today we celebrate the birth of John the Baptist.  John is a miraculous baby.  His conception is announced by an angel to his father, Zechariah, as he carried out his duty as priest in the temple.  Zechariah and his wife Elizabeth were childless, which at the time was seen as a punishment from God.  The angel Gabriel told Zechariah that God had heard their prayer, Elizabeth was to bear a son, and the child was to be named John, which means "God is gracious."  The angel went on to explain that John would prepare the way for the Messiah.  Zechariah found this news very hard to believe.  As a result of his disbelief he was struck dumb until he named the child John at his circumcision.  Elizabeth was the first to name him and the neighbours were astonished.  No one in their family had been named John.  It was a break with tradition.  The change of name heralds a new way forward.  Sometimes like the neighbours in the story we resist change.  It makes us feel uneasy and uncomfortable.  Tradition is good but sometimes the Holy Spirit is doing something new either in our lives or in the life of the Church and we need to adapt. 
Prayer
Loving God help us to be open to all new outpourings of your Holy Spirit. We ask this through Jesus, your beloved Son. Amen