Prayer of the Day
Feast of The Nativity of Our Lord Jesus Christ – Christmas Day
December 25th, 2014
""She gave birth to her firstborn son and wrapped him in bands of cloth, and laid him in a manger.""
Luke 2 : 7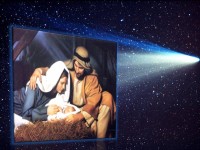 O Christ what shall we offer you coming on earth.
Angels offer praise.
Heaven lights up a star.
Magi bring gifts.
Shepherds bring wonder.
Earth a cave.
Desert a Manger.
Christmas belongs to children and to the child in all of us.  We adults must learn from the delight of our children.  At Christmas we come face to face with what is most essential,  most beautiful and most worthy of our dedication.  The family of the whole world converges around the birth of Jesus, who was born this day of the Virgin Mary.  The birth of Jesus lavishes new life within us.  Because of Jesus,  a new dignity can surround our homes, our work, our neighbourhood and our joy.  What we experience and manifest today, hopefully will be treasured in our hearts the whole year through.
Prayer
Your church and all religious thank and praise God for all that we are and have to live in the hope of realizing the Birth of Jesus in our lives everyday. Amen