Prayer of the Day
Feast of the Nativity of St. John the Baptist
June 24th, 2014
"''His name is John.''"
Luke 1 : 63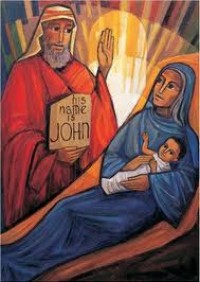 The time came for Elizabeth to have her child, and she gave birth to a son, and when her neighbours and relations heard the Lord had shown her so great a kindness, they shared her joy. On the eight day they came to circumcise the child, they were going to call him Zachariah after his father, but his mother spoke up. ''No'' she said '' he is to be called John.''  They said to her, ''But no one in your family has that name,'' and made signs to his father to find out what he wanted him called. The father asked for a writing tablet and wrote, '' His name is John.'' And they were all astonished. At that instant his power of speech returned and he spoke and praised God. What will this child turn out to be? And indeed the hand of the Lord was with him. The child grew up and his spirit matured. And he lived out in the wilderness until the day he appeared openly in Israel.
God's merciful response in the presence of human impossibility is one of great joy. Through the circumcision, both John and Jesus are incorporated into Israel. What will this child turn out to be?  God's gifts in John depicted as prophet, precursor, preparing   Israel for the Saviour.
Prayer
God, our Father, as we reflect on this Gospel, the Baptist's presence is your gift to us. Amen