Prayer of the Day
Feast of The Passion of St. John the Baptist
August 29th, 2015
"Lord I shall expound your law before kings and not fear disgrace. I will ponder your decrees, which I have always loved."
Antiphon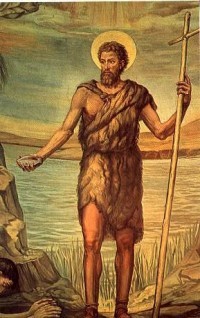 John the Baptist's birth was foretold to his father Zachariah.   John the Baptist's mother, Elizabeth,  was a cousin of Mary,  the Mother of Jesus.  John the Baptist's birth occurred six months before the birth of Jesus.  Zachariah doubted the angel who told him he and Elizabeth would become parents in their old age,  he was dumb until he was asked what name the child should be called.  When he wrote John is his name,  his speech returned and he never doubted again.  He blessed the God of Israel and realized a prophecy was fulfilled;  his son John the Baptist was the forerunner of Christ.  John the Baptist pointed out Jesus to his followers; "Behold the Lamb of God," he said to them. "I am not worthy to undo the strap of his sandal."
John became a preacher in the wilderness where he stayed.  His food was locusts and honey.  He preached.  A Baptism of Repentance was given to people who believed his words;  "Repent for the Kingdom of God is near."   Because John spoke the truth to the King about his unlawful marriage to his brother Philip's wife.  He was imprisoned and Herodias eventually had her revenge and John was beheaded.
Prayer
Lord by these gifts we offer, keep us faithful to your way of life, which John the Baptist preached in the wilderness and to which he courageously witnessed by shedding his blood. Amen